What is a pergola?  A pergola is a outdoor garden feature made of posts or pillars, with supporting cross beams and often uses an open lattice on which vines can grow.  Pergolas provide an area that allows for light sun and breeze, but blocks the glare of direct sunlight.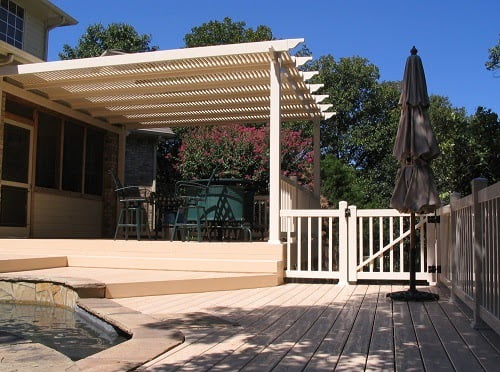 A PERGOLA is probably the most recognized structure that people think of when thinking of shade structures.  A pergola can be as small as an arbor and is only limited in size by the imagination of the designer and the space that it's being built over.  As mentioned above, pergolas can be constructed from cedar, aluminum or vinyl.  We think a vinyl pergolais the best option due to vinyls maintenance-free factor.
Future Outdoors has installed pergolas of all shapes, sizes and designs all over north Texas and the surrounding areas.  Our installers are specially trained to provide the highest level of expert installation available in the industry today.  We pride ourselves in training our crews with the most up-to-date, cutting edge installation techniques to ensure customer satisfaction and longevity of product.  That's why we stand behind the installation and craftsmanship of every pergola we sell.
Contact us today to set up a no-obligation consultation with one of our product specialists.  We will come to your home or location where you wish to have the pergola installed and conduct a site analysis, explaining your options and the products and designs we feel will work best with your existing structure and landscape.
Contact Future Outdoors today for your custom vinyl fence!
We are confident that our fence company services can handle all your fencing needs, and we are happy to provide a free estimate for your privacy, picket or ranch rail fencing.  Click the button to reach us to receive your free site inspection and estimate.