Everyone dreams of having the perfect backyard. The house that has the perfect garden or the go-to spot for all the cookouts and pool parties. Whether you just moved to the Dallas Ft. Worth Metroplex or you want to make some renovations to increase your property value, this will be your roadmap for landscaping in 2020! Future Outdoors is the go-to outdoors expert in the DFW area here in Texas. Our team can create a perfect environment for your friends and family. Reach out to us today to get a free estimate!
How Do I Get My Yard Ready For The Summer?
First things first: you need to get the yard cleaned up. This is by far the easiest part of starting to create the perfect backyard. You've survived winter and now that it's warming up outside, you may find yourself noticing that your property needs some love. Let's dive into the steps of accomplishing just that.
Raking
:
You may have already raked back when fall came, so you may be asking yourself "doesn't this seem redundant?" However, raking is one of the most important techniques you can utilize to create an environment for green and vibrant grass. When you rake, don't just skim the grass for dead leaves, but make sure you're turning up the dirt underneath. By doing so, you end up removing thatch. Thatch is all the dead grass that's mixed in-between the living grass. It prevents your grass and the root system from getting the nutrients it needs. It's important to remove it in order for the grass underneath to grow and thrive.
Tree Trimming

:
It's important to trim back your trees (also known as pruning) for a couple of reasons. First is the overall health of your trees. When your tree grows unchecked and branches are just growing in every which way, it weakens the overall health of your tree. Second, trimming your tree back helps light and rain reach the soil underneath your tree, providing it with important nutrients and preventing dead grass spots under your trees.
Weeding
:
We all hate it, but it's a must and should be done thoroughly. It may become time-consuming, but it's important to get down and pull out any weeds in your yard and garden. Afterwards, it's important to treat your yard with preventative chemicals to reduce the chance of future weeds growing back.
Plant A New Tree
:
It's important to pick a tree that can survive in hot and dry conditions. With so many options available for trees, we can limit them down to trees that are native to central Texas. Such as, Cedar Elm trees, a large and strong tree that will be able to the elements of Texas. Another great option being, Texas Red Oak tree, not quite as large as Cedar Elms, so it's a good option when avoiding towering trees.
Refresh your Fence
:
The cooler spring season is a great time to work on your outdoor structures. For instance, the lower temperature days are a great time to paint, stain, or even replace your tired old fence. If you're tired of having to perform maintenance on your fencing year after year, replacing your wooden fence with a new vinyl fence is a great option. Vinyl fencing is stronger and more durable than wood, and it doesn't need to be painted or stained.
Providing a Focal Point For Your Yard
One great way to tie your yard together is to create a focal point that everything then revolves around. A fire pit makes a great addition to almost any backyard – it provides a central gathering spot for outdoor activities, adds visual interest to your yard, and can be used for cookouts or just keeping warm during chilly fall evenings.
Fire pits come in a variety of sizes and styles, from simple stone-ringed campfire circles to exquisitely constructed backyard structures. In every case, you're sure to enjoy the way it looks in your yard and the entertainment it makes possible.
Another great focal point for the yard is introducing a pond to your yard. A pond can completely change the feel of your yard and add that extra touch to it. One of the great things about ponds is how customizable they are.
You can go for a natural pond that gives the feeling that it's always been there or you can go for a formal pond that has straight borders and a waterfall in the center. Either way, you want to go with your pond, it will become a beautiful addition to your backyard.
5 Things to Consider Before Installing a Vinyl Deck
1. How Do You Want to Use Your Deck?
No two people are alike – and neither are their decks. Planning a deck depends on how you want to use it and what its purpose will be. For instance, a deck built around a pool will be very different from a deck designed for evening entertaining or as an outdoor kitchen. Your contractor can help you come up with options that fit your views.
2. Do You Need a Permit?
Building codes and permit requirements vary from town to town and even sometimes within different neighborhoods. Depending on the size, location, and structure of your new deck, you may need to secure a building permit, HOA permission, or other documentation before you build. This is one step you definitely don't want to skip – you could face fines or even have to remove your completed structure. Our experts at Future Outdoors can help you plan ahead and secure the permits you need.
3. Where Will You Build Your Deck?
If you're building a new deck or expanding an old one beyond its original footprint, location is important. Don't feel like you need to limit yourself to your backyard either – there are lots of options when it comes to deck placement. Here are a few things you can think about when pondering placement:
Where should your deck be located?
Do you want to use it to watch the sunset or enjoy a particular area of your yard?
Do you want to provide secondary access to your deck, such as a side yard?
Where would a deck fit best from an architectural or design point of view?
Do you want to place a vinyl shade structure such as a pergola on your deck?
Considering these questions can help you decide what you value most in your deck. Of course you may also be constrained by your home's shape, the contour of your property, or other features in your yard, such as a pool or large trees. This is why it's also important to work with a skilled contractor who can help you solve these issues.
4. Will You Need to Landscape Before Building Your Deck?
Decks require a few things, the most important of which is support. Almost every deck is held up by posts dug into the ground. If you're planning to place your deck in a certain spot, make sure you talk with your contractor about the positioning beforehand. They might be able to spot potential problems you overlooked and help you avoid a huge headache.
5. What is Your Budget?
Cost considerations aren't fun, but they are important. You need to know what your budget is for your deck project before you plan so you can get an idea of what is possible. Make sure you discuss this with your contractor so they can give you ideas on how to achieve your goals within the budget you are willing to spend. You might also be tempted to skimp on one of the most important parts of a vinyl deck build – the material itself.
However, a quality vinyl deck pays for itself in ways that cheaper vinyl and wood decks don't. With a high-quality vinyl deck you may pay more initially, but you won't have to worry about painting, staining, sealing, or repairing your deck year after year. Over time, vinyl decks cost much less and last much longer than wood.
Building The Perfect Deck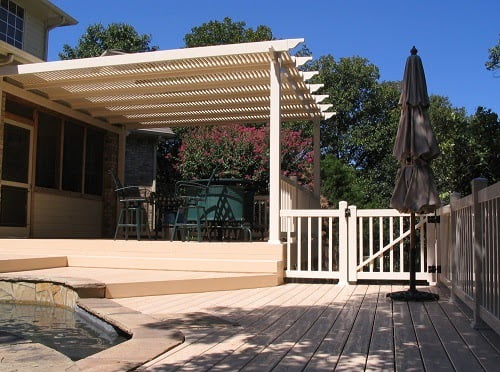 The first step to designing your perfect deck space is to think of the features you want and how the deck will be used throughout the year. Try to envision what you want in an outdoor space: Do you want an enclosure that will protect you from insects and sun? Are you planning on putting a swimming pool in the backyard (or do you have one already)? Will you be using the deck for entertaining guests, or just as an outdoor relaxation spot for you and your family?
A quality deck brings a lot of benefits to a home. It can boost your property values, give you a dedicated space for entertaining and relaxing outdoors, and improve the look and feel of your home and yard. But which material is the best for a new deck: vinyl or wood?
Should I Use Wood Or Vinyl for My Deck?
Up until the last 20 years or so, wood was the only viable material for a long-lasting deck. Today, wood still has some benefits and features many customers like. For instance, wood decks are quick and easy to install, and when they are built with treated lumber they are relatively durable. You can also easily paint or stain a wood deck to match your home.
However, wood decks also have a few drawbacks you'll want to consider. First, wood decks don't last forever, and need a lot of upkeep to stay in good shape. Most wood decks need to be treated and stained regularly to avoid fading, splintering, and damage. They can also be harder to keep clean since wood absorbs dirt and stains.
Finally, wood is vulnerable to damage from pests, insects, mold, and mildew. If you do choose wood for your deck, expect to replace it in 5 to 15 years unless you use an exotic (and expensive) hardwood. Also remember to budget for regular treatment and paint or stain to keep it looking good.
The Benefit of Vinyl Decks
In contrast to wood decks, vinyl and composite decking is a relatively new product that many homeowners aren't familiar with. Also unlike wood decks, manufacturers of vinyl decks have made many improvements to the materials since they started offering them.
Today's vinyl decks are extremely strong, durable, and long-lasting products. Some people have criticized vinyl decks for problems such as becoming brittle in cold weather, fading in harsh sun, and chalking over time. However, newer formulations of vinyl prevent these problems in new decks.
A vinyl deck built today will remain strong through the harshest heat and cold, and will retain its color and good looks for decades. It is true that vinyl decks can't be refinished, but modern vinyl decks are built to be easy to repair. The pieces are almost all modular and easy to remove and install, so if you do ever damage your deck it won't be hard to fix it again. If you're having trouble deciding between wood and vinyl, consider what factors are the most important to you:
Appearance – Both wood and vinyl decks are beautiful, but only vinyl will keep its looks for decades after you build it.
Maintenance – Wood decks require maintenance such as sealing and staining. In contrast, a vinyl deck is virtually maintenance free after it is built.
Lifespan – Vinyl decks can last for decades. Wood decks need to be rebuilt or replaced after 5 to 15 years at most.
Price – If you're on a limited budget, a wood deck can be built from relatively inexpensive lumber (but don't expect it to last very long). Vinyl decks are pricier but will be the last deck you will ever need.
Coming up with answers to these questions will help you plan the features and overall look and feel of your vinyl deck. Today's vinyl decks can be built with a variety of features built-in, including benches, garden planters, and more. This makes them extremely personable, but it also means you need to know all of the details up front to get the most out of your deck.
Choosing a Look for Your Deck
Vinyl decking comes in a huge variety of styles and colors. It can be used to simulate the look and feel of wooden decking, you'll need to plan out what you want your deck to look like when it's finished. Many people will use home and design magazines to help them find inspiration for their deck.
These are a good resource for people who aren't sure exactly what they want and need some ideas of what is possible. Take a look around for photographs of other vinyl decks, or search online to find more inspiration. To help with these stages, some people also use 3D modeling tools like SketchUp to draw their own plans for what they want the deck to look like.
These tools are pretty simple to learn and use if you give them a little time, and they can help you visualize what your deck will look like and how it will feel in your yard long before you break ground.
Getting Quotes for Your Deck
After you have an idea of what you want in a deck, you'll have to find a vinyl deck supplier that can make it come to life. A good vinyl deck contractor will be transparent through their whole process and give you advice on what works well for your property and keep you involved throughout the process of building your vinyl deck. When you're getting quotes from your vinyl decking contractors, keep a few questions in mind:
Where are they located? It's always better to work with a local contractor, since you can meet with them first-hand and easily address any concerns. Even if the prices are better, it's usually not worth it to contract with someone from further away just to save a few bucks.
What's their customer service like? When you call your vinyl deck provider, do they pick up the phone or just let it ring? Does someone return your calls quickly? Do you get the answers you need? If you feel like your chosen contractor doesn't care for or appreciate your business, don't work with them.
Do they offer warranty service? Companies that trust their products will work with you to make sure you're happy. If the contractor or the manufacturer doesn't offer warranties, or the warranty is conspicuously short or restrictive, ask yourself why.
Can they offer other products? Vinyl decks are great, but you might also want a fence, a shade structure, or other outdoor improvements at the same time. Make sure you work with a versatile contractor that can deliver on a variety of projects.
Once you find a contractor that you're happy with and can trust, all you have to do is sit back and wait for your perfect vinyl deck to take shape. It will only be a short time until you can enjoy your new outdoor living space all year long.
Choosing a Shade Structure
Once you finish building the perfect deck, you begin to look at installing a shade structure. Adding a shade structure guarantees that you can enjoy your deck during the summer season. Shade structures do just what the name implies and adding a patio cover can allow you to enjoy your deck no matter what the Texas weather brings to you. Let's look at some of the options you have.
What Are My Landscape Opportunities?
When it comes to creating the perfect landscape the options are limitless. It's all up to your own creativity! Here are some ideas that can create an amazing environment for friends and family.
A small pond, waterfall, or other water feature is a lovely addition to the right home. While it may not look right on every property, with enough space and planning you can make a water feature the centerpiece of your yard. However, they are also big projects that require a lot of expertise.
Gardens give your backyard color and allow for a lot of potential variety. You can use them for flowers, shrubs, ornaments, and even growing fruits or vegetables. Plus, a well-landscaped garden or flower bed gives your yard extra structure. Flower beds can be raised from the ground or embedded and the borders can be made with wood, stone, or any other durable material. You can be very creative with the planning of a flower bed or small garden – just make sure it complements, rather than stands out from, the rest of your yard.
You can plant a variety of plants, shrubs, and trees to bring your backyard to life. It's important to research your garden and learn what works best in your area. Many plants work best under certain circumstances and work best with other plants.
We dive into some examples of plants that will both make your backyard stand out as well as provide a safe haven for bees, helping to maintain your garden's health, and improving the overall environment of Dallas Texas.
The Final Step
Now, the final step of the process is to get started on turning your dream into a reality. All of these projects listed above can add visual appeal to your home and backyard and they make great focal points in an otherwise plain space. Don't be afraid to get creative, and with over twenty years of experience in Northern Texas, the team at Future Outdoors is here to help create the perfect backyard for you. If you have any questions or would like to set up a free estimate just call us today at 972-576-1600.