What is a ranch rail fence?  A ranch rail fence is a traditional fence style for use with horses and on ranches.  Ranch rail fencing structure and design allows for maximum visibility while still maintaining control of your ranch.  Popular styles include 2-, 3-, and 4-slat horizontal beams and a variety of crisscross patterns.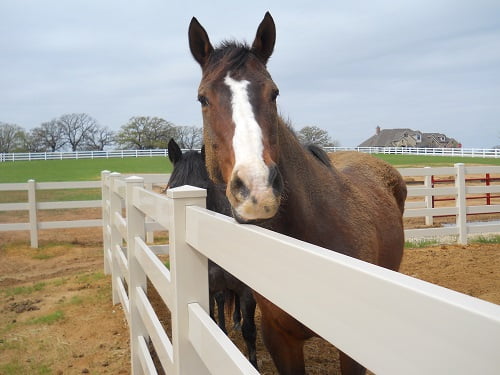 A RANCH RAIL FENCE from Future Outdoors is not only aesthetically pleasing for your property's appearance, it's also fully functional for ranching and farming purposes.  Anyone that's ever had to paint split rail fences will quickly explain to you the value of vinyl; not just in paint, but in the time-consuming, back-breaking labor that's required to maintain a clean and attractive fence line.  With a vinyl fence from Future Outdoors, say goodbye to hard labor and unnecessary expense!
Future Outdoors has installed fences of all shapes, sizes and designs all over north Texas and the surrounding areas.  Our installers are specially trained to provide the highest level of expert installation available in the industry today.  We pride ourselves in training our crews with the most up-to-date, cutting edge installation techniques to ensure customer satisfaction and longevity of product.  That's why we stand behind the installation and craftsmanship of every fence we sell.
Why vinyl?  If you're looking for the best fence you can get for your home, garden, yard, or ranch, you're looking for a vinyl fence from Future Outdoors®! Our fences are the highest quality fences available on the market, providing years of useful, maintenance-free protection and beauty for your property.
Contact us today to set up a no-obligation consultation with one of our product specialists.  We will come to your home or location where you wish to have the fence installed and conduct a site analysis, explaining your options and the products and designs we feel will work best with your existing structure and landscape.
Contact Future Outdoors today for your custom vinyl fence!
We are confident that our fence company services can handle all your fencing needs, and we are happy to provide a free estimate for your privacy, picket or ranch rail fencing.  Click the button to reach us to receive your free site inspection and estimate.